Shopping Cart Abandonment -What causes online shoppers to put things in their cart, only to abandon the cart and not follow through with a purchase? The results of a survey shed some light on the reasons why.
The Sky's the Limit -After more than 40 years in the quilting industry, entrepreneur Marti Michell is not slowing down. Trace her remarkable career from an at-home business to the World Wide Web.
New Year's Resolution: Clean Up Your Website Marsha Doyenne outlines four broad categories of maintenance and remerchandising to tackle as you freshen up your website for the new year.
Create an In-Store Pinterest Display -Get creative and trumpet your most popular pins to your in-store customers and give a boost to both your sales and your Pinterest following.
News: New Rules for Pinterest Promotions /
Foursquare Offers Ads to Local Businesses
Picture Perfect Profits -Is a picture worth a thousand dollars? It might be if you work Pinterest to your advantage. Here's how to turn your posts into profits.
Profiting from Panels – Marsha Doyenne explains how to turn precut panels into impulse buys and shares a range of projects to inspire your customers' creativity.
Essential Elements of Effective Emails -We pare down some of the best information about email marketing to give you the essential elements to consider when planning your campaign.
Using Angles to Add Interest -Garner more attention to your wares on social media with the more eye-catching photos that come from shooting at interesting angles.
How to Gain Followers on Instagram -You have the photos, so the next step is getting people to see them. Brenda Ratliff outlines five of the most effective ways to increase your Instagram following
Converting Transactions Into Long-Term Customer Relationships -Marsha Doyenne brainstorms ways to cultivate customer loyalty online.
Jumping on the Downton Wave- Edwardian England meets Andover Fabrics with a new fabric
collection inspired by the women of Downton Abbey fame.
Instagram Should Be Your New Favorite App -Find out what makes the popular photo-sharing application
the perfect social media service for shopowners.
Simple Lighting Techniques: Exposure
Just a few key pieces of equipment can help you harness the sun to improve your photos.
5 Ways Shopowners Can Use a Smartphone to Create Engaging Content -If you're struggling with content ideas for engaging with your customers, you may find just the help you need in your smartphone.
4 Facebook Mobile Marketing Tips -Learn how to use your mobile phone and Facebook together for the most effective mobile marketing.
Social Marketing That's Funny, Inspirational, and Just Plain Silly
Understanding Search Algorithms- Tom Henell explains how ever-changing algorithms affect your site's
appearance in online searches.
Meet the Men: Meet Jason Yenter and Thomas Knauer, male fabric designers in a female-centric industry.
AppWatch: Knit Handy, Quilt Wizard, DRAWings Snap Apps to encourage creativity in knitting, quilting and machine embroidery.
Getting Down to Business: Pinterest Get the most from this powerful marketing tool with your business account.
Trending: St. Louis 16-Patch -Shopowner Steffani K. Burton shares how to make the quilt that is all over Instagram.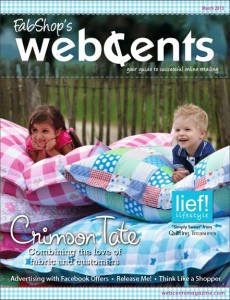 Face to Face: Melissa Stramel (Lilac Lane Patterns) and Heather Jones (Olive & Ollie)
Advertising with Facebook Offers: Todd Gibson explains the potential for positive ROI, low-cost and simplicity of this new form of online advertising.
Increasing Traffic to Your Website: Marsha Doyenne (Fabric Essentials) shares ideas on spreading your customer-gathering web both online and off.
App Watch: FootBook, FabricU, American Folk Art, and Aurifil smartphone apps
Crimson Tate: Interview with Heather Givans, owner and personality behind the Indianapolis quilt shop, Crimson Tate.
Angela Walters: Meet the talented and busy longarm quilter, designer, author and teacher.
Introduction to Paid Search: Tom Henell explains the perks of paid search results, in addition to search engine optimization.
Release Me!: PR Consultant Jaime Guthals shares tips on writing and sharing your shop's news with the media.
Just What the Doctor Ordered: Brett Myers takes some of the mystery out of using Google Analytics.
Achieving More Accurate Color with White Balance: Learn to find the right balance for true crisp colors in your product photos.
Think Like  A Shopper: Take a different perspective on your shop and increase your shoppers' confidence.
Shopping Cart: A sampling of fabrics, books and more with Pantone's Color of the Year: Emerald.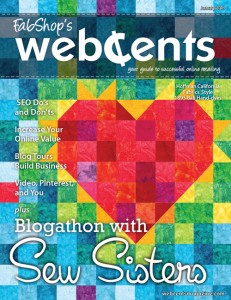 Face to Face: Liesl Gibson (Oliver + S) and Sarai Mitnick (Colette Patterns)
Lessons Learned: Three shopowners share their experiences with customer service, social media, and retailing online.
Increasing Your Online Value: Marsha Doyenne explains how to increase the value of your shop to customers on your website and increase sales
The Dos and Don'ts of DIY SEO: Tom Henell gives examples of what you should (and shouldn't) do to increase your page ranks.
Sew Sisters: An interview with Judy Baldwin of Sew Sisters  about their Canadian blogathon.
Business Building with Blog Tours: Add traffic and sales to your site by participating in blog tours.
Meet the Designer — Kim Christopherson: Owner and founder of Kimberbell Designs creates cute designs with marketing savvy.
Video, Pinterest and You: Monica Lee explains how to market your business on Pinterest
Shedding Light on Exposure: Melissa Burt shares the fundamentals of photography
Shopping Cart:  A sampling of products to get your and your customers organized
AppWatch: Astrid, Listary, Any.Do apps for your smartphone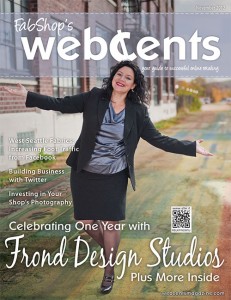 Face to Face:

Rachel Low (Pins & Needles NYC) and Keli Faw (Drygoods Design)

Reputation is Everything!

How to protect and nurture your business' reputation

New Kids on the Quilt Block:

Blend Fabrics, Dear Stella Design and Frond Studios all celebrate one year anniversaries

Lessons Learned:

Six new shop owners share their experiences after one year of online and storefront retailing

The West Seattle Fabric Company:

Profile of a Seattle shopowner who uses Facebook to drive foot traffic

Meet the Teacher — Katie Pedersen:

One modern quilt designer's approach to teaching designing, and collaborating

Selecting Keywords for your Website:

Learn how to increase your search engine performance through keywords

Building Business with Twitter:

Melanie O'Brien shares when and how to use Twitter to build relationships with your customers

Investing in Your Shop's Photos:

Learn what kind of equipment you need to improve your shop's photos in the digital age

Copyright Law 101:

Attorney Ashely Dobbs leads us through the murky waters of copyright law for online retailers

Increase Your Marketing Power with YouTube:

How YouTube videos can lead to email newsletter sign-ups

Shopping Cart:

That's a first! First books, fabric collections, and tools.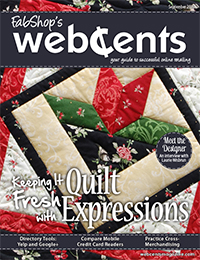 Face to Face:

Marsha Cowan (Bernina Sewing and Design and Terry Skrabanek, Lone Star Quiltworks) 

Dear Stealla:

I have 2000 business cards printed , now what? 

Meet the Designer — Laurie Wisbrun:

Find out how Laurie founds herself as a fabric designer after 20 years in the business world. 

Social Merchandising:

Learn how to use social media in merchandising on your website and increase sales.

AppWatch:

Flickr, Over and WordPress

Quilt Expressions:

Interview with Karen Hanson, owner of Quilt Expressions in Boise, Idaho. 

It's About the Marketing & Selling:

The Four Ps of marketing: Price, Product, Place and Promotion.

Tone Up Your Newsletter:

Monica Lee shares tips for building your email newsletter lists.

10 Subject Lines that Will Get Your Newsletter Read:

Write to encourage readers to open and read. 

Tools for Blogging:

Ways to find the time to create and maintain an engaging blog.

Five Tips for Maximizing Your Search Engine Optimization:

Learn how to manage your SEO Strategy .

Benefits & Cost of PayPal:

Compare benefits and costs of accepting PayPal for online purchases

.
A Matter of Time: Infographic featuring time management with technology.
Dear Stella: How do I brand on a budget?
Face to Face: Kelly Jackson (I Have A Notion) and Dawn Farrier (The Creation Station)
Panning for Gold Online: Marsha Doyenne explains why and how to cross-merchandise your online shop
Making Strangers into Customers: Monica Lee shares tips on building your email newsletter list
Suppose Quilt Boutique: Interview with co-owner Jo Thomas about what makes Suppose Quilt Boutique stand out
Facebook Adds Apps: Pages Manager, Camera and Admin Roles
Social Local Mobile Stats on the mobile phones-to-customer connection
Credit Card Payments on the Go: Popular mobile credit card readers explained
2012 Online Shopper Survey for Quilters: Who is spending where and on what?
Getting Found on Yelp and Google+: How to put these local search engines to get new customers in your doors
AppWatch: 1Password, Dragon Dictation, FedEx Mobile, and UPS Mobile
Issue 5 is sold out.
Dear Stella: How can I get people to connect with us on social media?
Face to Face: Nancy Mahoney and Kat Southern (StudioKat Designs)
Panning for Gold Online: Marsha Doyenne takes a look at website merchandising
Taking the No-Sew Route to Customers: Monica Lee shares ideas on expanding your customer base beyond quilters and sewist and into the crafters' world
Meet the Designer–Patty Young: Interview with the effervescent Patty Young about her path, her patterns, her designs and where she's headed next
Embracing Technology with The Quilt Patch: Interview with Kathy Seal, owner of The Quilt Patch about her new-found loves: the iPhone and social media
On Your Mark: Learn how to watermark images so customers can find you
The Power of Pinning: Using Pinterest to bring visitors and customers to your site
Online Quilt Learning: Pepper Cory explains how quilting lessons can help, not hinder, your sales
Mobile Customers are Different: Interacting with mobile customers takes a different slant
AppWatch: Evernote, Snapfish, Super8
Dear Stella: Is there a trick to getting my business to stick in customers' minds?
Face to Face: Barbara Jones (QuiltSoup) and Ellen Medlock (Ellen Medlock Studio)
Panning for Gold Online: The importance of product name and image consistency
Google's 60+ Policies Become One: What it means when they merge
Building an Online Community with Sew,Mama,Sew!: Interview with Kristin Link about the community she's built via her blog and social media for her Sew,Mama,Sew! shop
5 Mistakes to Never Make: Monica Lee shares some common goofs in blogging and ways to avoid them on yours
Show and Tell: Using videos to reach customers
10 Tips to Improve Your Newsletter: Quiltropolis shares ideas to increase newsletter response
AppWatch: Instagram
Dear Stella: Is the market already saturated?
Old School vs. High Tech: Group coupons win out in the marketing battle
Mobile Marketing: Tips for getting your e-newsletter mobile ready
The Anatomy of the Perfect Mobile Email: Ten Things to keep in mind
Putting the Social in Social Media: Blogging for creativity, networking and sales
Are You on Pinterest? Here's how Pinterest works and why you need it
Google+ Now for Businesses: Social media with SEO rewards
Connecting with Customers on Strawberry Patches' Blog
Panning for Gold Online: Turn old inventory into cash using vendor archives
Free eCommerce Software Explained: Comparing free shopping cart software
PCI Compliance: Small businesses facing increased scrutiny
AppWatch: Slice, Block Fab, Checker Mobile, Fabric Stash, Quilting Calculator
The Basics: Getting your website up and running
5 Questions to Ask When Buying Web Services: Be prepared to make the right choice
Adding e-Commerce to Your Site: How the addition can make a real difference in your sales
Convert Abandoned Carts to Sales: Why shoppers abandon their carts and how to avoid it
Set Up an Email Newsletter: E-Newsletters are a must-have marketing tool
Boost Your Sales with Smart Data: How Web analytics programs identify the design elements that lead to the decision to buy
Getting Creative with QR Codes: Using QR codes creatively to drive business
Principles of Writing for the Web: Keep these in mind when writing for an online audience
Come Out on Top with Google: Why Search Engine Optimization is as important as ever
Buy the Book: HTML 5 and CSS, Enchantment, Social Boom, The Social Media Bible, and Websites for Quilters.